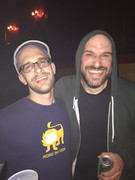 I saw Dave play in New Orleans on February 16th and since I have a busy life I haven't gotten around to writing here about it until now, four beers in, listening to Care, in the middle of one of my own creative projects.
I love Dave's perseverance. Through all the loss of faith and challenges of growing up, Dave has made good music, but not just good music, honest music. That's why I still love the guy. I can choose to listen to all sorts of things in my spare time, from Frank Zappa to Drake to whatever, and I like a lot of different music now, but I always go back to David Bazan because he's like a dude I know and love, and the fact that he's continued to grow as a musician and songwriter over the years while so often wearing his broken heart somewhat on his sleeve while not seeming like a pussy somehow -- well this is something I find very inspiring.
By the time I got to talk to Dave after the show, I was drunk to be honest. I don't get drunk often, but that night I was. I hope I didn't make a fool of myself. I recall, I think, telling him he was my hero and I tried reminding him that I drew a flyer for his visit to a New Orleans house show in 2011 or so in a place where I was staying at the time. It's weird meeting someone creative you love for a third time in life and knowing that they're probably not going to remember you but that they mean so much to you that you, in a sort of weird mentorship kind of way, hope that just a sliver of their brains will remember something about you.
So Dave played with his new PTL band. The light show was a bit wild and a little disconcerting. I remember thinking, Damn! what's going on here? But the band was tight. The songs were good. I loved it. He played a lot of oldies. I was with my wife and she enjoyed it too. She knows all about my history with ole Bazan, how I discovered him my junior year of high school and then started doubting my faith (I grew up in Assemblies of God just like Dave). My faith in the Christian God was unraveling around the same time I became a fan of Pedro The Lion, a little while before Achilles Heel came out. Oddly enough, I discovered PTL through my best friend (still my best friend) who has a thing for old Disney soundtracks and had been looking through Napster or Kazaa for a Lion King song and somehow happened across "Criticism As Inspiration." The rest is history really. That song blew me the hell away and still does if I had the balls to listen to it.
Bazan was my soundtrack for all of those life changes, and all these years later (I'm 32 now, damn!), I hold him in high regard for always questing into the unknown with a pure heart.
I was drinking too much that night to remember a set list. I'm not an alcoholic (that's what they all say, I know), but sometimes I do really let loose, especially when my kid is being securely babysat by my parents and my wife and I can hit the highway for a much-anticipated show (which never happens really). Dave gave me a good picture after the show, like he wanted to be talking to me, and I appreciate that. I don't have a lot of heroes. I don't believe in much...
But David Bazan is a good man. He probably wouldn't claim that about himself, but that's part of what makes him so good. He plays his heart out and I love his songs, his new ones perhaps even more than his old ones, but I love them all. He's evolved. And really, I wish him and the new incarnation of PTL the best. I want him to have all the success in the world. I feel like I know him, even though I don't except through his songs, and to me this is why he's such a good songwriter. He's a strong presence, and still humble somehow, even though he's been very consistently good for as long as I can remember.
I'm thankful I got to have my arm around him for a second in a photograph and tell him how much his songs meant to me. I was a little kid again then, like way back when I met him for the first time, a virgin freshman at Louisiana State University at the time, doubting my faith and lost in the world. I don't know if God exists, but thank God for David Bazan...
Best wishes!
I just purchased your cat t-shirt!